cake or death
Anyway, Happy Autumn! Celebrate: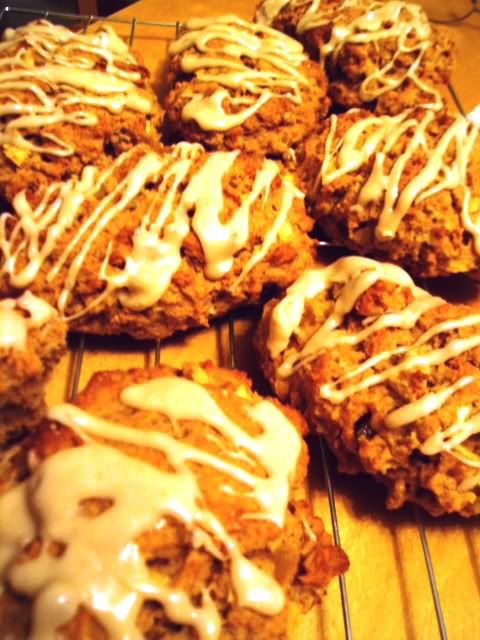 Apple Ginger Scones (adapted from ©Hannah Kaminsky
http://www.bittersweetblog.net
)
Makes 8 Scones
2 Cups Whole Wheat Pastry Flour
2 Teaspoons Baking Powder
1/4 Teaspoon Baking Soda
1/4 Teaspoon Salt
1 Teaspoon Ground Cinnamon
1/2 Teaspoon Ground Ginger
1/4 Teaspoon Ground Nutmeg
Pinch Ground Allspice
1/2 Cup Applesauce
1/2 Cup Apple Cider
1/3 Cup Sucanat
1/2 Cup Margarine, Diced
1/2 Cup Chopped Crystallized Ginger
1 Medium Apple (Braeburn), Diced
Ginger-Cider Icing:
3/4 Cups Confectioner's Sugar
1/4 Teaspoon Ground Ginger
1/8 tsp. Ground Cardamom
1/2 – 1 Tablespoons Apple Cider
Preheat oven to 375 degrees, and line a baking sheet with either a silpat or piece of parchment paper.
In a large bowl, whisk together the flour, baking powder and soda, salt, and spices, so that all of the dry ingredients are equally distributed. In another bowl, mix together the applesauce, cider, and sugar until smooth, and set aside.
Cut the margarine into the dry ingredients and mix to a coarse, mealy consistency; toss in the chopped ginger and apple so that they're coated in the flour, and then pour in the wet ingredients. Stir just enough to bring the dough together.
Divide batter into eighths (approximately 1/2 cup each). Shape as desired (rounds or triangles). Bake for 18 – 22 minutes, until lightly browned. Let cool completely on a wire rack before icing.
For the icing, stir together all of the ingredients, adding the cider just a few drops at a time, until it reaches your desired consistency. Drizzle across the scones.
I went to a potluck with nothing but a loaf of store-bought bread. This is indicative of a crisis! Just before I completely lose it, I told myself to go bake something. School has messed with me enough that I had a tough time even shopping for ingredients. I made it to one store and managed to do fine, but I lost heart while pursuing sweeteners at another. Fortunately, I found just enough powdered sugar tucked away in my spice cabinet.